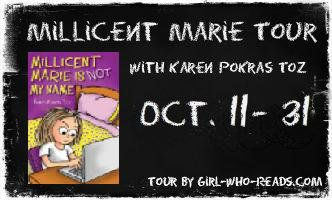 My Daughter's Review:
I liked this story because it demonstrated real life. I loved the characters and how they put real school life in there. I loved how the author put a little brother in there that is a little bit of a nuisance. It kind of reminded me of myself and how it was at my school. I recommend this story for any age who can read. I've also read Nate Rocks the World and recommend that book as well.
The review was written by a 12 year old girl. She was given a copy of the book for an honest review.
Book Blurb:
Twelve-year-old Millicent Marie does not like her name. After all, she was named for a woman who died more than fifty years ago and was not the most loveable member of the Harris family. Her friends call her Millie, but when she writes in her diary she refers to herself as Amanda – the name she always wished she had.
When Millie's younger brother finds her diary on her computer, he decides to publish it as a blog for the entire world to see, including the boy Millie has a crush on. In the midst of all the mayhem, Millie/Amanda discovers she is suddenly Springside Elementary's most sought after sixth-grade mystery gossip and advice columnist.
But not all is fun and games, as Millie quickly learns, once she realizes feelings are at stake. Nobody, least of all Millie, expects things to turn out as they do in this tale of friendship and respect.
Author Bio:
Karen Pokras Toz is a writer, wife and mom. Karen grew up in Connecticut and currently lives outside of Philadelphia with her husband and three children. In June 2011, Karen published her first middle grade children's novel for 7-12 year olds called Nate Rocks the World, which won First Place for Children's Chapter Books and the Grand Prize Overall in the 2012 Purple Dragonfly Book Awards, as well as placing first for a Global E-Book Award for Pre-Teen Literature. In 2012, Karen published the second in the Nate Rocks series, Nate Rocks the Boat, followed by middle grade novel, Millicent Marie Is Not My Name. Karen is a member of the Society of Children's Book Writers & Illustrators (SCBWI).
Comment on this post for a chance to win this Millicent Marie is NOT My Name Swag Bag!
Alchemyofscrawl's Author Interview:
What is your book about?
Millicent Marie Is Not My Name, is the story of a girl (Millicent Marie) who suddenly finds herself to be her school's most sought after gossip/advice columnist after her younger brother publishes her private diary online as a blog. In her diary, Millie signs all of her posts as Amanda, the name she always wished she had. Millie's classmates, have no idea that Millie is the one writing the blog. As time goes by, Millie comes to love all of the attention, often at the expense of others; however, she soon learns the true meaning of respect and friendship.
What's one thing you want a reader to know about you?
I am the mom of three great kids who are totally caught up in what I call the electronics generation. To them, reading was always a chore, and they would always complain there was nothing good to read. So I started writing to prove them wrong.
How can a reader connect with you?
There are several ways readers can connect with me:
Website: www.karentoz.com
Blog: http://kptoz.blogspot.com
Facebook: www.facebook.com/karenptoz
Twitter: www.twitter.com/karentoz
Goodreads: http://www.goodreads.com/author/show/5009570.Karen_Pokras_Toz
Amazon: http://amazon.com/author/karentoz
I love hearing from readers!
4) What was your path to getting published or how long have you been writing?
I started writing only a few years ago. I never set out to be a writer. I've always been more of a numbers person. As I said above, I started writing sort of as a dare from my kids – I wanted it to be a learning lesson for them, and it turned out to be a learning lesson for me. I learned that I loved to write – especially for kids! I feel truly blessed that I am able to now spend my days doing something I feel so passionately about.
5) Where can a reader find your book?
All of my books are available in digital and print formats both online (Amazon, Barnes & Noble, Itunes, etc) and in stores and libraries. If you don't see one of my titles on the shelves of your local store or library, please ask for them to order it and help spread the word that Indie Authors rock!
Related articles