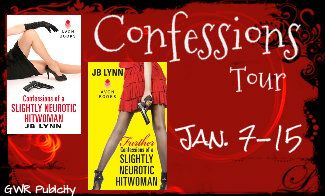 Let's Talk Family by Maggie Lee (character interview)
You know when you go out on a date and someone asks the "easy" icebreaker question, "What's your family like?"? It makes me break out in hives. Here's what I usually say:
My mom's a permanent resident of a nuthouse.
My conman/hustler/bank robber/maybe-murderer dad's in prison.
My Aunt Susan is a know-it-all control freak.
Currently engaged Aunt Loretta has been married more times than Elizabeth Taylor (once to a drug dealer!) and her twin sister Aunt Leslie is a pothead (currently in recovery).
I WAS one of four girls, but my sister Darlene was murdered years ago, her twin Marlene took off and I'm pretty sure she hates me, my sister Theresa died in a terrible car accident a few months ago. My niece, Katie, Theresa's daughter, was hurt badly in the car accident and has been in the hospital ever since.
Aren't you sorry you asked?

Book 1: Confessions of a Slightly Neurotic Hitwoman
Maggie Lee is not your average hitwoman. For one thing, she's never killed anyone. For another, after hitting her head in the car accident that killed her sister, her new best friend is a talking lizard–a picky eater, obsessed with "Wheel of Fortune," that only Maggie can hear.
Maggie, who can barely take care of herself, is desperate to help her injured and orphaned niece get the best medical care possible, so she reluctantly accepts a mobster's lucrative job offer: major cash to kill his monstrous son-in-law.
Paired with Patrick Mulligan, a charming murder mentor (who happens to moonlight as a police detective), Maggie stumbles down her new career path, contending with self-doubt, three meddling aunts, a semi-psychic friend predicting her doom, and a day job she hates. Oh, and let's not forget about Paul Kowalski, the sexy beat cop who could throw her ass in jail if he finds out what she's up to.
Training has never been so complicated And, this time, Maggie has to get the job done. Because if she doesn't . . . she's the mob's next target.
Book 2: Further Confessions of Slightly Neurotic Hitwoman
Take three wacky aunts, two talking animals, one nervous bride, and an upcoming hit, and you've got the follow-up to JB Lynn's wickedly funny Confessions of a Slightly Neurotic Hitwoman
Knocking off a drug kingpin was the last thing on Maggie Lee's to-do list, but when a tragic accident leaves her beloved niece orphaned and in the hospital, Maggie will go to desperate lengths to land the money needed for her care.
But the drug kingpin is the least of her worries. Maggie's aunts are driving her crazy, her best friend's turned into a bridezilla…and a knock on the head has given Maggie Dr. Dolittle abilities—she can talk to animals. Unfortunately, they talk back.
It's just another day in the life of this neurotic hitwoman…
About the Author:
Besides being a writer, JB Lynn is a compulsive reader, a runner (of sorts), an enthusiastic cook (who doesn't get the appeal of the Food Network), and someone who has an irresistible urge to eavesdrop at all times. JB has a great love of her husband, dogs, coffee, purple ink, spiral notebooks, running gear, hot showers, and '80s music. Given enough time, all of these things will eventually show up in her books.
Schedule:
Jan. 7 Modokker Book Picks http://modokkerbookpicks.blogspot.com Character Guest Post
Jan. 8 Alchemy of Scrawl http://alchemyscrawl.com Character Guest Post
Jan. 9 Bunny's Reviews http://bunnysreview.com Author Guest Post
Jan. 10 Jess Resides Here http://www.frellathon.com Interview
Jan. 11 SM Johnson Writes http://smjbookteasers.blogspot.com Post from Godzilla
Jan. 12 Living, Learning, and Loving Life http://www.livinglearninglovinglife.com Author Guest Post
Jan. 13 Mom with a Kindle http://momwithakindle.blogspot.com Character Guest Post
Jan. 14 Alli's Worl http://mrscaptkirk51.blogspot.com/ Review and Character Guest Post
Jan. 15 Keeping Up with the Rheinlander's http://mnmrheinlander.com Review and Character Guest Post
Live Chat at Goodreads Jan. 10:
http://www.goodreads.com/group/show/88126-ask-j-b-lynn
Tour's Pinterest Board
http://pinterest.com/girlwhoreads/confessions-tour/
Social Media Links:
Website: www.jblynn.com
Publisher: http://www.harpercollins.com/authors/38895/JB_Lynn/index.aspx
Twitter: https://twitter.com/jb_lynn_author
Facebook: http://www.facebook.com/jb.lynn.14
KILLER CHICKS (blog): http://www.killerchicks.org/
Related articles