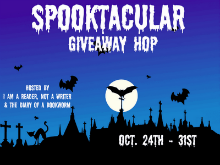 Once again I'm participating in the Spooktacular Giveaway Blog Hop sponsored by I Am A Reader Not A Writer. Follow the linky below for over 400 more giveaways!
I'm giving away six eBooks and they are available anywhere you can accept by email (Int'l) and in any format (ePub, Kindle, PDF). Follow the easy entries on the Rafflecopter to win!
Book Blurb: "You always save the best lies for yourself." – Amador Lockdown
Something has moved into the Amador Hotel. Hector, Marcos, Bev, and Tony of the Paranormal Posse are called in to either debunk the haunting or get rid of whatever is causing the problems. With the surprise arrival of Hector's son, he tries to keep his professional and personal lives separate, but whatever is haunting the Amador Hotel has other plans.
 Scare easily? Are you often frightened out of your sleep? Does the mere mention of ghosts prickle your skin? These seven authors' imaginations are fired up by the scariness of the unknown. Find a comfy spot, sit back and enjoy nine tales to tickle your taste for terror.